Certification Mark Policy
GCERTI registered clients are authorized and encouraged to use the GCERTI certification marks to promote their achievement. Organizations can only use the logo in reference to the provision of goods and services contained within their scope of certification. The marks can be used widely, but please note that there are regulations to their use, specifically to the marks which carry the IAS logo.
Using Certification Marks
The use of any of the management certification marks on products is strictly prohibited.
Where to use the mark
Letters (business card)
Stationery
Websites
Advertising
Promotional Goods
Flag
Where not to use the mark
Product Packaging
Calibration Certificates
Inspection Certificates
Product Conformity Statements
IAF mark alone
IAS mark alone
In case of incorrect reference to Certification status or misleading use of certification documents or marks, GCERTI may request corrective actions, suspension or withdrawal of certificate, publication of the transgression or, if necessary, legal action
Where such a statement is used, it shall include reference to:
Identification (e.g. brand or name) of the certified client;
The type of management system (e.g. quality, environment) and the applicable standard;
The name of certification body i.e. GCERTI Co., Ltd.
Example: "Manufactured by ABC Co., Ltd. whose quality management system is certified to ISO 9001:2015 by GCERTI".
ISO 9001:2015 (Quality Management Systems) Mark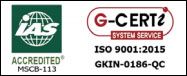 If you have any questions on the certification mark, please contact GCERTI